A Graduate Certificate or Degree in Management…or Not
Should a graduate management degree or certificate be included in my plans to advance my career as a senior manager of a charitable-philanthropic-nonprofit organization?
This is a big question – and one with an expensive price tag. What factors should I consider?
The news media tell us that grad school brings benefits – those having earned advanced degrees tend to earn bigger paychecks and promotions than those who only have an undergraduate degree. For example, if I have a Master's degree, on average I earn $200 more a week than someone with a bachelor's degree (Source: Bureau of Labor Statistics), or about 15% higher overall income. This is a reflection of improved skill sets, job-related competencies, knowledge base, marketability, and earning potential based on the significantly improved value of the holder to the organization.
Over a lifetime, according to the US Census Bureau, a person with a Master's degree may earn $400,000 more than one with only a bachelor's degree.
However, while I am more likely to find a new job or a promotion, investments are required. For example, according to FinAid.org, the average cost of a Master's degree is between $30,000 and $120,000.  [Note: the cost of an MPA Degree at Norwich University is about $30,000.  Of course, educational loan assistance is usually available.  One of the four Graduate Certificates in Nonprofit Organization Management is far less.]
Will a graduate degree help me get hired?
Attitudes about Master's degrees have changed significantly since the 1970s when they were often considered simply a consolation prize for students not able to complete their doctoral degrees. Since then, the Master's degree has evolved into an important professional credential highly valued by most employers.
According to Burning Glass Technologies, graduate degrees are required or preferred in more than 20% of the positions available in the US economy. Increasingly, the professional world values the growing number of managerial positions that require digital skills versus the ones that do not.
Demand for the Master's Degree is up
The Education Advisory Board in their 2014 custom research brief, Development of Online Master's Degree in Higher Education Programs, found that nationally, "demand for graduates with skills gained from a master's degree in higher education increased 54 percent nationally from January 2010 to June 2013. This increase is noteworthy.  Additionally, the Board found that Metropolitan areas such as Boston-Cambridge-Quincy, MA and Washington-Arlington-Alexandria, CD-VA-MD-WV, reflected some of the highest demand for graduates with a master's degree in higher education.
Connecting the dots strongly suggests that earning a graduate management degree prepares and positions the human services professional to stay competitive in the job market.
A recent national survey and study determined that most NPO senior executives have either a bachelor's or master's degree.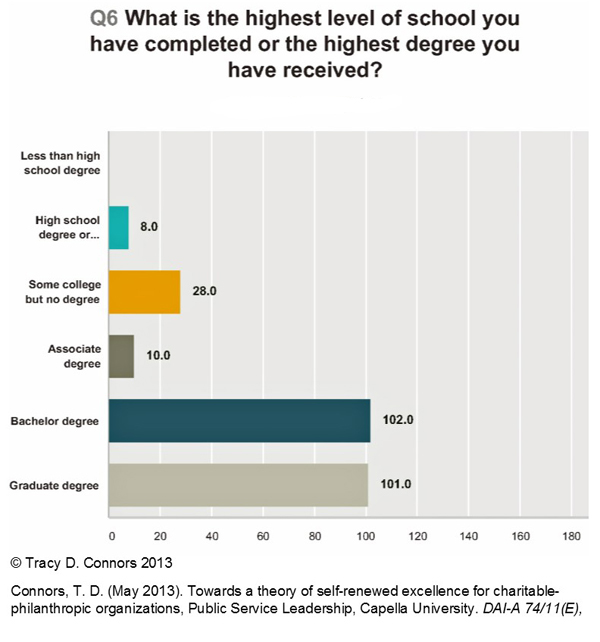 However, few of the hundreds of respondents, all of whom were self-selected/reported as C-PO executives, held degrees in nonprofit organization management or even related fields.  Over 70% reported degrees from other fields. The next largest source was from the field of social/community services. This may reflect a pattern of internal promotion for social services agencies whose executives perhaps started as hands-on providers of client services.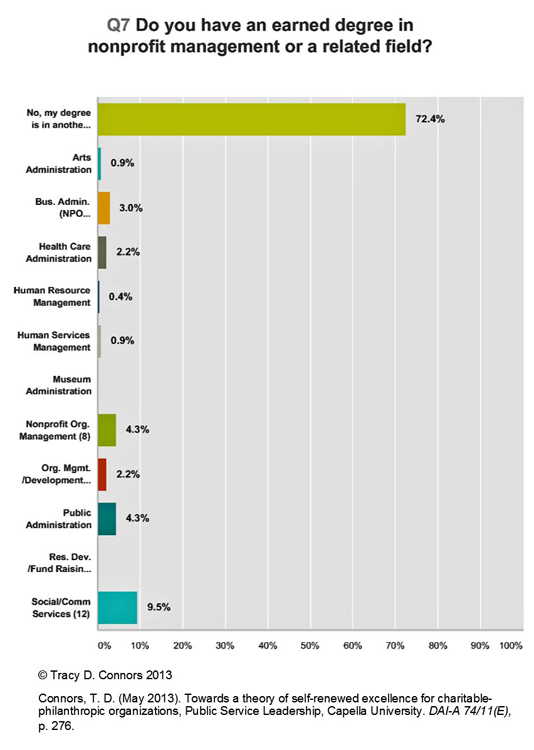 Less than 5% reported earning degrees in either nonprofit organization management or public administration, respectively. The aggregated totals for all degrees focused on some aspect of management (e.g., business administration, human resource management, NPO management) totaled 18.2%. In short, fewer than one in five reported having any college level educational background in managing any type of organization; and, only approximately 1 in 20 had a degree in NPO management.
Professional credentials. The majority of the respondents (60.4%) had not earned professional credentials beyond their college Bachelor's Degree programs. Those reporting credentials in the "other" category included holders of non-degree certificates in nonprofit management, certificates from various sources in other categories of management, certifications as facilitator/trainer, or other graduate degree programs.
When asked their preferences regarding additional professional resources, the great majority of the respondents (79%) chose charitable-nonprofit management credentialing programs. The strong response for credentialing suggests that managers and leaders of nonprofit organizations understand and validated the value of the NPM Graduate Certificate and graduate degree program.
The convergence of demands for more effectiveness and efficiency from nonprofit organizations, preferences for Master's degree holders over those with lesser degrees, and the scarcity of senior managers of nonprofit organizations having any formal management education, argue strongly in favor of including the acquisition of a graduate management certificate and graduate degree in management as important professional development goals and objectives.
In short, Yes, you should consider a graduate degree or certification program.  Just make sure it will truly develop competencies you can use to help improve the organization's results and outcomes.
© Copyright 2019 T. D. Connors