Not enough practitioners have charitable-nonprofit management degrees: managing a voluntary association requires different competencies and tools than organizations in business or government (public administration).
Relatively few C-PO/NPO executives hold degrees in nonprofit organization management, or even management itself. Data from a recent national survey of C-PO/NPO executives highlight demographics relevant to professional development and education.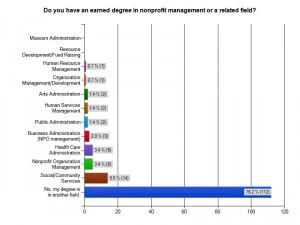 Over 70% of respondents reported degrees from other fields. The next largest source is from the field of social/community services. This may reflect a pattern of internal promotion for social services agencies whose executives perhaps started as hands-on providers of client services.
Less than 5% reported earning degrees in either nonprofit organization management or public administration, respectively. The aggregated totals for all degrees focused on some aspect of management (e.g., business administration, human resource management, NPO management) totaled 18.2%. In short, fewer than one in five reported having any college level educational background in managing any type of organization; and, only approximately 1 in 20 had a degree in NPO management (Connors, 2013).
Would having more voluntary organization management expertise suggest more professional opportunity and success for C-NP professionals, and performance improvement by the organizations they lead? Arguably, it does.
Next: Management Actions/Activities Contributing to Organizational Renewal
Suggested citation:
Connors, T. D. (2019). Transformational leaders or paragon leaders? In Transformational organizations: NPO crossroads. Retrieved from BelleAire Press, LLC: http://www.npocrossroads.com/management/transformational-leaders-or-paragon-leaders/
© Copyright 2019 BelleAire Press, LLC