A Gap Exists in Professional Credentials by management practitioners
The majority of the respondents (60.4%) participating in the  Charitable-Philanthropic Organization Self-Renewing Management Research Study had not earned professional credentials beyond their college Bachelor's Degree programs. Those reporting credentials in the "other" category included holders of non-degree certificates in nonprofit management, certificates from various sources in other categories of management, certifications as facilitator/trainer, or other graduate degree programs.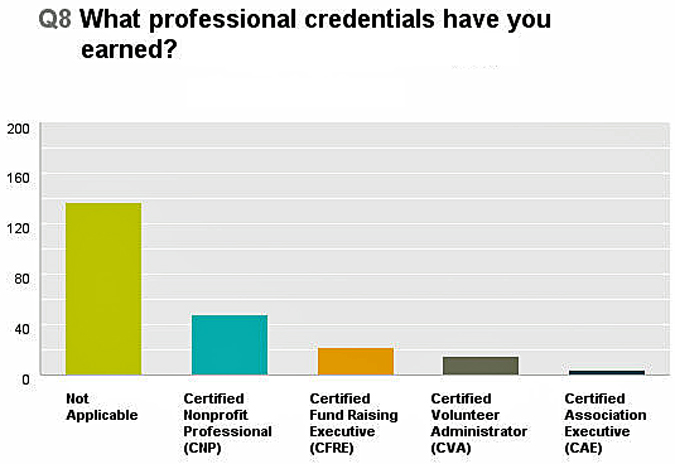 When asked their preferences regarding additional professional resources, the great majority of the respondents (79%) chose NPO management credentialing programs in addition to management graduate degree programs (63%), or management bachelor's degree programs (42%).
Next: Workforce Professional Preparation, Development and Training–Conclusions, Consequences and New Directions
Suggested citation:
Connors, T. D. (2019). Transformational leaders or paragon leaders? In Transformational organizations: NPO crossroads. Retrieved from BelleAire Press, LLC: http://www.npocrossroads.com/management/transformational-leaders-or-paragon-leaders/
© Copyright 2019 BelleAire Press, LLC